Buy Naked 100 E-Juice | The Smoking Buddha
Naked 100 E-Juice
When it comes to e-liquid brands that hit it out of the park, Naked E-Juice is definitely a company that makes the list. Even though this brand is fairly new to the vaping scene, having introduced its first formulas in 2016, it's become a powerhouse in the e-juice market. With simple designs and great taste, Naked 100 has garnered worldwide acclaim from vape enthusiasts. If you're a fan of fun flavors and haven't tried Naked 100's selection, you're missing out.
Why Choose Naked 100 Vape Juice? Naked 100 is best known for its huge selection of E-Juice flavors. These include the traditional menthol and tobacco, but also explore more innovative profiles:
Blended fruit
Icy, refreshing blast
Sweet and sour fusion
Cream and fruit twist
Any of these is sure to satisfy your sweet tooth.
The flavor isn't the only thing Naked 100 has to boast about. This brand is award-winning, which means you're guaranteed quality any time you choose to partake. With a combination of tasty choices and high standards, it's no wonder Naked 100 is so popular.
What Kinds of E-Juice Available from Naked 100?
Naked 100 produces 70 VG/30 PG e-juice, which is ideal for users who prefer a less intense throat hit and denser clouds. You can use it in mods and the more traditional e-cigarettes.
Due to their rising popularity, pod-compatible salt e-juice is also available. Rather than filling a tank, you can pop one of these pods into your system and be ready to go. While the flavor spectrum isn't quite as diverse as the VG/PG e-liquids, you still have access to some top favorites:
Cuban Blend
Brain Freeze
Lava Flow
Green Blast
Hawaiian Pog
The Smoking Buddha's Selection of Naked E-Juice Products
We're excited to offer both the salt and traditional e-juice versions of Naked 100's products. We have over a dozen flavors for you to choose from:
All Melon, a mix of cantaloupe, honeydew, and watermelon
Amazing Mango, a mix of cream, mango, and peach
Naked Unicorn, a mix of cream and strawberry
Polar Breeze, a mix of honeydew, pineapple, cantaloupe, and menthol
Really Berry, a mix of blackberry, blueberry, and lemon
Sour Sweet, a mix of kiwi, lime, and sour patch
If you're more traditional in your tastes, we also carry the tobacco flavor American Patriots. Since all of our e-juice is under $20, you can afford to try a few and find your favorite.
The staff here at The Smoking Buddha are always happy to help. If you have any questions, don't hesitate to contact our smoke shop directly using our simple form or give us a call at (303) 840-4388.
Shop E-Juice at the Best Vape Shop in Parker, CO
As vaping has gained popularity over the years, the choices of e-juice brands and flavors have expanded almost exponentially. With such a wide variety of flavors, you are sure to find something that suits your tastes.
Some customers love the feeling of enjoying a sweet treat and prefer fruity or candy flavors, while others are attracted to the salty or savory varieties. Some brands offer exotic twists and combinations of tastes that
offer surprising new sensations to even the most seasoned vaping customer. New combinations and flavors are produced every day, so your vape shop should always have something new and exciting for you to try from brands
that have been tested and approved.
No Juice Over $20!
Smoking Buddha in Parker, CO carries over 300 flavors of sub-ohm e-liquids and over 100 flavors of nic-salts! We are constantly bringing in new vape juice flavors and brands to offer to our customers. While you can expect continuously rotating lines to choose from, there are tried and true brands that you can find on our shelves; Naked 100, Ritual, Candy King, etc. And as always, you will never pay more than $20 for a bottle of juice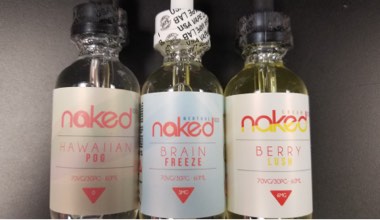 Naked E-Juice
Naked is one of the most popular lines of all time and they just keep adding to their vast array of flavors. Try one of the legendary flavors like Hawaiian Pog or Brain Freeze or one of the new salt flavors.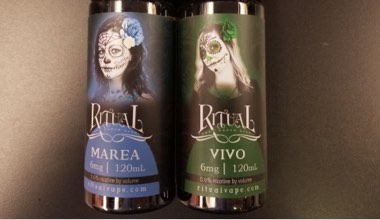 Ritual E-Juice
Ritual is one of the first brands we brought into the Smoking Buddha and it's still going strong. Their Blue Razz is undoubtedly one of the best on the market.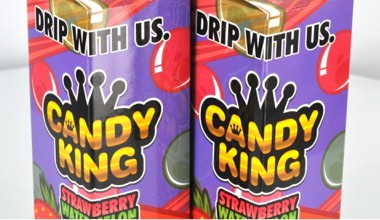 Candy King E-Juice
Candy King offers a wide variety of candy profiles, including Strawberry Belts, Peachy Rings, Pink Squares and the incomparable Strawberry Watermelon Bubble Gum.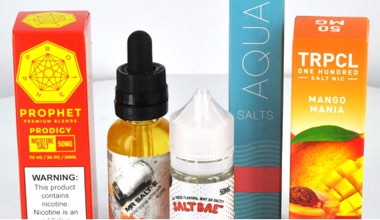 Salt Juice
Check out our ever-increasing selection of salt juices. Including brands like; Mr Salty, Naked Salt, pod., and TRPCL.
Smoking Buddha's E-Juice
Air Factory
Strawberry Kiwi Taffy
Mystery – White cherry Taffy
Blu Raz – Blue Raspberry Taffy
Wild Apple – Green Apple Taffy
Berry – Berry Taffy
Melon – Watermelon Taffy
Treats Cookie Crunch – Freshly Baked Cookie
Frost Tropic Freeze – Pineapple, Mango, Citrus, Menthol
Strawberry Crunch
Melon Lush Ice
Blue Razz Ice
Alternative
Alpha – Grape, Candy Apple, Menthol
Beta – Peach, Apple, Menthol
Delta – Watermelon, Strawberry, Menthol
Iota – Peach, Mango, Menthol
Omega – Pineapple Lemonade, Menthol
Aqua
Flow – Pineapple, Guava, Mango
Mist – Green Apple, Peach, Kiwi
Oasis – Peach, Cantaloupe, Papaya
Pure – Strawberry, Apple, Watermelon
Rainbow Drops – Fruity Candies
Sour Melon*
Blue Raspberry*
Momentum – Mango Candy*
Aqua Ice
All of the Aqua flavors with just a touch of Menthol
Except for flavors with *
Bad Drop
Don't Care Bear – Sweet and Tangy Sour Patch Bears
Farley's Gnarly Sauce – Kiwi Strawberry Bubble Gum
God Nectar – Guava, Mango, Orange, Passionfruit
Beard
NO. 32 – Cinnamon Funnel Cake
Burst Duo
Kiwi Strawberry
Apple Watermelon
Peach Raspberry
Guava Dragonfruit
Burst
Strawberry Starburst
Sherbet Starburst
Burst Blizzard
Berry Ice
Strawberry Ice
Candy King
Sour Gummy Worms
Sourpatch Kids
Strawberry Watermelon Gum
Strawberry Belts
Strawberry Watermelon Gum Ice
Peachy Rings
Pink Squares
Strawberry Rolls
Hard Apple
Tropic King by Candy King
Berry Breeze – Blackberry, Blueberry, Black Currant, Raspberry
Cucumber Cooler – Cucumber, Watermelon, Lime
Grapefruit Gust – Grapefruit, Guava, Strawberry
Lychee Luau – Lychee, Peach, Pear
Mad Melon – Honeydew, Watermelon, Cantaloupe
Maui Mango – Pineapple, Orange, Mango
Cookie King by Candy King
Coco Cream – Oreo
Dunk – Graham Crackers dipped in Vanilla Frosting
The Custard Shoppe
Raspberry Custard
Butterscotch Custard
Blackberry Custard
Dead Presidents
Jefferson – Krispie Fruit Cereal
Washington – Blue Razz Cotton Candy with a hint of Sour
Dinner Lady
Lemon Tart
Flavor Monster
Drac – Dragon Fruit with Sweet Lime
Baku – Berries with Lemon Lime
Hydra – Honeydew Kiwi
Jengu – Peach Lime
Wendigo – Watermelon Coconut
Sagari – Strawberry and Vanilla Custard
Kraken – Caramel and Vanilla Custard
Seko – Spiced Custard
Pandora – Key Lime Pie with Graham Cracker Crust
Leszi – Lemon Cheesecake with Graham Cracker Crust
Pech – Peanut Butter Cheesecake
Satori – Fruity Pebbles
Siren – Cinnamon Toast Cereal
Tomte – Cap'n Crunch Cereal
Bogle – Cinnamon and Butterscotch
Cuco – Yellow Cream Cake
Ewah – Toffee Coffee
Ice Walker – Menthol
Fresh Pressed Salts
Fruit Finale – Apple, Pear and Amazon forest fruits
Pressed Pink Melon – Peach, Watermelon, Honeydew
Sugar Tantrum – Whipped Custard, Vanilla Beans and Pecans
Lava Laua – Watermelon, Kiwi, Mixed Berries with Menthol
Honeycomb Berry
F*ck ISIS
F*ck Isis – Strawberry-Peach
Glass
Fizzy Lemonade – Lemonade, Lime Soda, Pineapple Ice
Caribbean Punch – Peach, Strawberry, Apple, Pineapple
Blueberry Cake – Vanilla, Blueberry, Cream, Cake
Strawberry Gummy – Sweet n Sour Strawberry Gummy Mixed Berries
Butterscotch
Sugar Cookie
Humble
Donkey Kahn – Strawberry, Banana, Dragonfruit
PeeWee Kiwi – Kiwi, Watermelon, Apple and a hint of citrus
Smash Mouth – Strawberry and Graham Cracker
American Dream – Vanilla Cereal Smore
Berry Blow Doe – Blue-razz Bubblegum
Blue Dazzle – Blue-razz Cotton candy
Hop Scotch – Butterscotch Vanilla Custard
Humble Crumble – Blueberry Cinnamon Graham Cracker Pie
Peach Pleasure – Dragonfruit, Strawberry, Peach
Sweater Puppets – Mango, Cantaloupe, Honeydew
Unicorn Treats – Lucky Charms
VTR Sorbet – Citrus Sweet
Dragonfly Ice – Watermelon, Honeydew, Cantaloupe
Pink Sparkle Ice – Pink Lemonade Ice
Ruby Red Ice – Grapefruit Citrus Peach Ice
Tropic Thunder Ice – Strawberry Kiwi Sweet Ice
Peewee Kiwi Ice
VTR Ice
Berry Blow Doe Ice
Donkey Kahn Ice
Jam Monster
Apple Jam, Butter and Toast
Blueberry Jam, Butter and Toast
Strawberry Jam, Butter and Toast
Grape Jam, Butter and Toast
Blackberry Jam, Butter and Toast
Raspberry Jam, Butter and Toast
PBJ – Grape and Strawberry available
Keep It 100
Kiberry Killa – Strawberry Kiwi
Blue Slushie – Blue Raspberry Slushie
Strawberry Milk
Blue Slushie Iced
Blue Slushie Tropical
Blue Slushie Lemonade
Lazer Wolf
Frozen Peach Rings
Sticky Buns with Ice Cream
Strawberry Margarita
Leaviathan
Sea Salt Pineapple
Sea Salt Caramel Custard
Sea Salt Strawberry Mango
Loaded
Cookie Butter
MamaSan
Grand Slam – Graham Crackers and Milk
Milk King
Cereal Milk – Fruity Creamy Goodness
Chocolate Milk
Strawberry Milk
Honey Milk
Naked
Lava Flow – Strawberry, Pineapple, Coconut
Amazing Mango – Peach, Mango, Cream
All Melon – Watermelon, Cantaloupe, Honeydew
Really Berry – Blueberry, Blackberry, Lemon
Hawaiian Pog – Passionfruit, Orange, Guava
Hawaiian Pog Ice – Passionfruit, Orange, Guava served on Ice
Green Blast – Apple, Kiwi, Honeydew
Very Cool – Blueberry, Blackberry, Raspberry, Menthol
Brain freeze – Menthol Strawberry, Kiwi, Pomegranate
Sour Sweet – Kiwi-lime Sourpatch
Yummy Gum – Strawberry Gum
Berry Belts – Strawberry, Blackberry Belts
Naked Unicorn – Strawberry cream
Go Nanas – Rich n Sweet bananas
Azul Berries – Blueberry and Raspberry cream
Maui Sun – Pineapple, Orange and Tangerine
American Patriots – Tobacco
Polar Breeze – Pineapple, Cantaloupe, Honeydew, Menthol
Arctic Air – Spearmint
Nitro Cold Brew
Macchiato with a hint of Cool
OKVMI
Haute Mocha-Mocha Frappe
Old Loco
Salsa Grape – Grape Kool-Aid
Orgnx
Apple Ice
Honeydew Ice
Lychee Ice
Orange Ice
Peach Ice
Pacha Mama
Strawberry Nectarine, Fuji Apple
Peach, Papaya, Coconut Cream
Huckleberry Pear, Acai Berry
Honeydew, Kiwi, Berry, Mint Leaf
Strawberry, Guava, Jackfruit
Mango, Pitaya, Pineapple
Reds
Apple
Apple Ice
Berry
Berry Ice
Grape
Grape Ice
Watermelon
Watermelon Ice
Mango Ice
Ripe
Peach, Mango, Pineapple
Kiwi, Dragonberry
Fiji Melons
Blue Raspberry, Pomegranate
Apple Berries
Ritual
Marea – Blueberry Raspberry
Vivo – Strawberry Lime
Silver Back
Lola – Strawberry, Banana, Dragon Fruit
Rocky – Banana Oatmeal Cookie with Strawberry Vanilla Ice Cream
BooBoo – Grape, Blueberry
Jenny – Strawberry with Minty Watermelon Bubblegum
Sandy – Strawberry Watermelon
Harambe – Rumchata
Amy – Vanilla bean PeanutButter Brittle Caramel
Skwezzed
Green Apple
Sorbea
Grapefruit Watermelon with a hint of Cool
Pomegranate Orange
Raspberry Sour Apple
Stay Salty
Apple Kiwi
Blue Raspberry
Blue Raspberry Lemonade
Straw-melon Twist
Tropical Blue Raspberry
Straw-melon Twist Ice
Strawnomenon
Strawberry Hard Candy
Lemon Hard Candy
Blue-nomenon
Watan-omenon
Grape-nomenon
Three MonkeyZ
Banana Mango Slushy
Strawberry Cactus Coconut
White Grape Tangerine
TRPCL
Apple Paradise – Green Apple with Pear
Fruit Punch
Mango Mania – Mango, Peach
Twist
Strawberry Queen
Pink Punch Lemonade
Wild Watermelon Lemonade
Ice Pink Punch
Tropical
Vapemaid
Pudding – Cinnamon Marshmallow Pudding
Sticky Buns – Butterscotch Sticky Buns
Vaporgate
Smurf
Smurf Ice
Yogi
Strawberry granola bar
Blueberry granola bar
Banana and Peanut butter granola bar
Sweet granola bar
Salt Juices
Air Factory – 50mg/35
Blue Razz
Crisp Apple
Mystery
Mint
Melon Lush
Berry Lush
Aqua – 50mg/35
Pure – Strawberry, Apple, Watermelon
Oasis – Peach, Cantaloupe, Papaya
Mist – Green Apple, Peach, Kiwi
Flow – Pineapple, Guava, Mango
Rainbow Drops – Fruity Candies
Sour Melon
Blue Razz
Basix – 50mg/30
Juicy Apple – Red Apple, Green Apple, Juice
Fizzy Lemonade – Lemonade, Pineapple, Lime Soda, Ice
Blue Magic – Blueberry, Vanilla, Mystery Flavor
Banana Cream Pie
Mango Tango
Baton – 50mg
Crisp Apple
Iced Watermelon Limeade
Glacier Mint
Island Mango
Beard – 50mg
No. 00 – Sweet Tobaccocino
No. 5 – Cheesecake with Strawberries on top
No. 32 – Cinnamon Funnel Cake
No. 42 – Cold Fruit Cup
No. 71 – Sweet & Sour Sugar Peach
BLVK 50mg/35
Carmel Tobacco
Candy King – 50mg
Batch
Sour Worms
Strawberry Watermelon Gum
Peachy Rings
Pink Squares
Swedish Fish
Dinner Lady – 50 / 30mg
Lemon Tart
Strawberry Macaron
Daze – 50/30mg
Apple
Apple Berries
Apple Grape
Apple Watermelon
Apple Mando
*All Flavors also in Iced
Elysian Labs – 48/24/12mg
Artemis – Creamy Pear Strawberry Lychee
Gambler – Passion Orange Guava
Siren – Strawberry, Coconut Milk
Skadi – Fruit Cereal
Epitome – 50/25mg
Sweet Mint
Sekai-ichi Apple
Jam Monster – 48/24mg
Blueberry
PB & Jam – Grape or Strawberry
Raspberry
Strawberry
Juice Head – 50mg/25
Peach, Pear
Watermelon, Lime
Blueberry Lemon
Grapefruit Pineapple
Naked – 50mg/35mg
Really Berry – Blueberry, Blackberry, Lemon
Brain Freeze – Menthol Strawberry, Kiwi, Pomegranate
Lava Flow – Strawberry, Pineapple, Coconut
Polar Breeze – Pineapple, Cantaloupe, Honeydew Menthol
Green Blast – Apple, Kiwi, Honeydew
Hawaiian Pog – Passionfruit, Orange, Guava
Amazing Mango – Peach, Mango, Cream
Very Cool – Blueberry, Blackberry, Raspberry, Menthol
Arctic Air – Minty Menthol
Maui son – Pineapple, Orange and Tangerine
Organix – 50mg/35
Peach Menthol
Honeydew Menthol
Orange Menthol
Lychee Menthol
Apple Menthol
Pacha Mama
Strawberry Watermelon
Fuji Apple
Apple Tobacco
Starfruit Grape
Honeydew Melon
Peach Burst
Cotton Candy
Pod Juice – 55mg
Hawaiian
Blue Raspberry
Melon Breeze – Honeydew, Watermelon, hint of Cantaloupe
Savage Patch – Sweet and Sour Gummy
Strawberry Lemonade
Mango Burst
Watermelon
Propaganda – 50mg/35
Cookie Butter
Blue Slushie
Ripe – 50/35mg
Peach, Mango, Pineapple
Kiwi, Dragonberry
Fiji Melons
Blue Raspberry, Pomegranate
Apple Berries
Salt Bae – 50mg
Sweet Caramel Tobacco
Green Apple
Red Mango
Strawberry Kiwi
Juicy Watermelon
Watermelon Ice
Red Mango Ice
Green Apple Ice
Watermelon Ice
Bluerazz Lemonade
Salty Man – 50mg
Kool Peach – Peach and Coconut Colada
Seedless Sour – Watermelon mixed with Sour Gummies
Hoops – Fruity Cereal
Juice Box – Apple Frit Drink
Stay Salty 50mg/25
Bluerazz
Bluerazz Lemonade
Straw-melon Twist
Apple Kiwi
The Salty One 50mg/30
Apple Cereal Donut Milk
Strawberry Cereal Donut Milk
Sweet n' Sour Apple-berry
TRPCL – 50mg/25mg
Mango Mania – Peach, Mango
Apple Paradise – Apple, Pear
Fruit Punch
Aloha Gummy
Twist – 50/35mg
Iced Pink Punch
Iced Puckered Punch
Pink Punch
Watermelon Madness